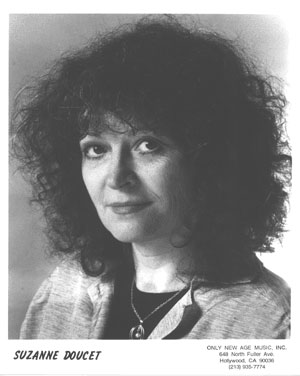 Suzanne wrote scripts for radio shows, TV productions, commercials and children's productions. She also developped innovative record and video productions, where she did directing,engineering and editing.
Suzanne wrote numerous songs for other artists than herself including Udo Juergens, Rex Gildo, Margot Werner, Mirreille Mathieu, Wencke Myrre a.m.o
Suzanne wrote articles, reviews and produced her own newsletters and magazines. Below are some examples. She also did the layout and the artwork.
Singer, performer, recording artist, composer, song writer, author, painter, graphic artist, actress, TV-hostess, producer, publisher, director, retailer, networker, astrologer, consultant:
Visual Music excerpts
(Quicktime movie)
"Life Magazine" began their report on New Age Music with a quote from Suzanne Doucet, while specialized Keyboard Magazine acknowledged Suzanne for having "the most authoritative view on New Age Music," and the LA Times devoted a full page article to Suzanne in their Sunday Calendar section. Magazines and TV production companies have interviewed her for their publications in Germany, Austria, France, Spain, Greece, Brazil, Japan, Taiwan, and South Korea.
Suzanne's over 40 years in the world of Music and Show business have provided her with incomparable knowledge, experience and contacts. Beyond being an international recording and performing artist, a singer, songwriter & composer (several hit records and albums in Europe, Asia and the USA), prime time TV "Pop Show" hostess (guests included the BeeGees, Eric Burdon, Grateful Dead, Keith Emerson, Donovan) Suzanne is also an established actress and musical star (Godspell with Donna Summer), director, producer, script writer, art director, sound designer, publisher, label owner, marketing consultant and online-retailer.
Steven Halpern says in his foreword to the New Age Music Guide by P.J.Birosik, published by MacMillan "...explorers, who helped lay the groundwork for what we now term New Age Music include Kitaro, Andreas Vollenweider, Vangelis, C.H.Deuter, Klaus Schulze, Paul Horn, Suzanne Doucet, Brian Eno and Paul Winter." more